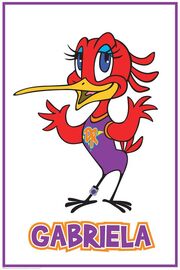 Gabriela is a red hummingbird and member of the Danger Rangers.
Gabriella is the Task Master of the crew. She is also a highly skilled Chief of Operations and Head Safety Trainer. She is often called "GB" for short. Her catchphrase is "You need to be Danger Ranger ready."
Besides red feathers, Gabriela has blue eyes, light blue eyeshadow, a yellow beak, and black legs and feet.
Being a bird, Gabriela needs her wings free to fly, so she has her Savo watch wrapped around her leg, and when she has to carry things while flying, she picks them up with her beak or, if she needs it free, her feet.
Gabriela is voiced by Tasia Valenza.
Appearances
Song Segments with GB
NOTE: Those marked with an asterisk (*) are the only songs where she actually sings her parts. Those marked with a hyphen/minus sign (-) are those where she doesn't have any solo parts.
Trivia
Gallery