Henr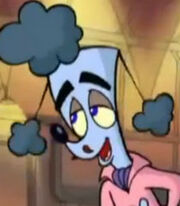 i Ennui
is the main villain of the episode "
Medicine Mix-Up
." He is a blue French poodle who plans on making millions of dollars, and to do so, he plans on using a rancinator (meaning he'll make any food the ray hits stink). At first, he does so to all of the candy after having gone through their respective factories and before shipping to a store.
He had a backstory with Kitty, as they'd known each other from Global Pol, but he sold counterfeit perfumes that smelled bad.
Henri is voiced by Jeff Bennett.
While "Medicine Mix-Up" is Henri's only TV appearance, he would also appear in "Camping Caper" and "Attack of the Achoos."
Appearances
Medicine Mix-Up (first appearance)