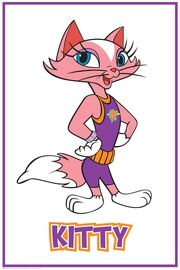 Kitty is the brains of the team and the second leader. She is cool, smart, and adventurous. Kitty is the brains of the Operations. She is also very talented (as in "Where the Fun Never Stops," she can pick up a phone with her tail; whereas in the "Don't Touch Them Pills" segment, she can juggle fruit, including all the cherries staying in the same group, and the berries in their own group). She is a professional in home safety and hates cheating.
Before becoming a Danger Ranger, she owned a puppy named Buddy as a kitten (as mentioned and later shown in "Dog Days") and later in her life worked for Global Pol with Henri Ennui (as mentioned in "Medicine Mix-Up").
She is a close friend to Sully, but she may have strong feelings for him, and so may Sully. The pair are best friends but not lovers. She loves gymnastics, cheerleaders, dancing, and singing (but does get annoyed when Sully rhymes and raps outside musical number segments), and she's an excellent fighter too. She is friends with everyone around her.
In the episode "Chem Gems," she pretends to be her favorite hero, Sherlock Holmes, while, analogously speaking, Sully is Dr. Watson (to his annoyance over her calling him by that last name).
Her catchphrase is "Now that's a danger-proof plan."
Kitty is voiced by Grey DeLisle.
Appearances
Trivia
Kitty is organized and prepared for emergencies. She is always the first to respond when it comes to safety drills.
Kitty is a skilled surfer and swimmer. She is also a very good teacher and mentor.
Gallery