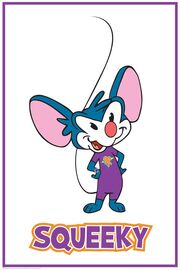 Squeeky
is a blue mouse who is a member of the
Danger Rangers
. This pint-sized hero loves cheese and is often sarcastic. He even throws cheese at Savo when he seems to annoy the former.
He may be the smallest Danger Ranger, but he is also the loudest. Good things come in small packages. His catchphrase is "Hey, I'm working here!"
Whenever he flies in the hovership, he has to ride in a rear-facing seat because (despite being an adult) he is under 20 pounds (as mentioned and shown in "Mission 547: Safety Rules!").
Squeeky mentions in "Be Prepared" that he is Burble's roommate.
Appearances
Gallery
Trivia
He has a distinctive Brooklyn accent.
He and Gabriela are the smallest of the Danger Rangers.