"
Stay Calm
" is a song from "
Be Prepared
". It explains how to look, listen, and think, and not freak out when thin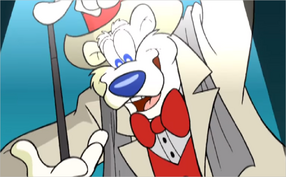 gs go wrong.
Kitty: When you're in danger
Or when big disasters hit,
Burble: A fire, quake
There's a rattlesnake on the trail
And you just got bit.
Burble & Kitty: Some folks panic,
They all go manic
And lose control
It's true
They're frightened but,
Do you know what
Burble: The best thing is to do?
Stay calm, breathe in, step back
You're trying to control the situation, Jack.
Burble & Kitty: Think hard and stay on track
Burble: Check it out for what you can see
Keep calm now, look about
How to get to safety
Got to figure it out
Burble & Kitty: Danger lurks and you're scared, no doubt
Burble: You ask yourself, "What do I do?"
Burble & Kitty: Stay calm
(Trio & Burble: Look, listen, think
Focus, breathe, stay in sync)
Burble: When there's a crisis
And you don't know what to do
Kitty: A friend falls down
There's a choking sound
And his face is turning blue
Burble: But you won't start to fall apart
Or panic, no-siree
Burble & Kitty: You're good to go
Because you know
Burble: There's just one way to be
(Trio: In an emergency)
Burble: Keep calm, be sure you take
A moment to assess the situation, Jake.
Figure out what's going on,
And then you can make
Decisions as to what you should do.
There's something stuck, you note.
Reach in and take the piece of candy out of his throat.
That's why they say, and I quote,
"When you're facing danger,
What do you do?"
Burble & Kitty: Stay calm
(Burble & Trio: Look, listen, think)
Burble & Kitty: Stay calm
(Burble & Trio: Focus, stay in sync)
Burble & Kitty: Stay calm
(Burble & Trio: Take the time to think)
Burble & Kitty: Stay calm.
Appearances
Edit
Be Prepared (first appearance)
Burble and the background trio each wear a tuxedo and a top hat in this song segment, as well as medical scrubs for Burble and nurse uniforms for the trio (not just the medical cat) during Jake's choking scene. Burble wears shoes in both outfits, but the trio remains barefoot.
This song explains about being prepared and staying cool during an emergency.
Kitty sings co-lead vocals with Burble, but she doesn't show up in the video.